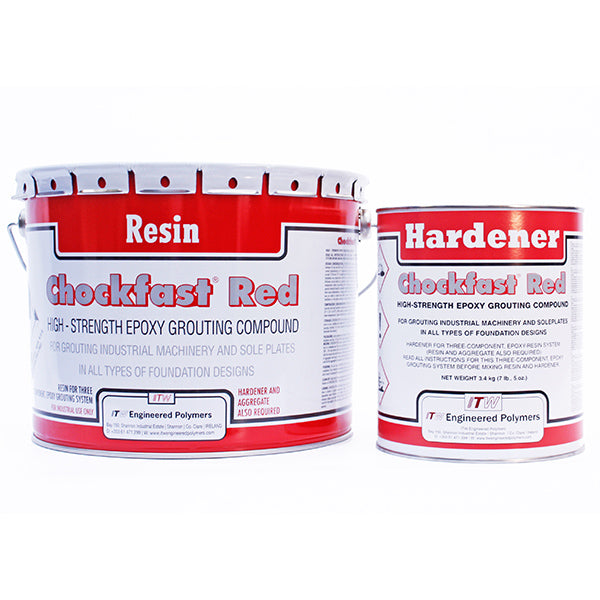 Chockfast Red Versaflow
Original price
$800.00
-
Original price
$800.00
PRODUCT DESCRIPTION
Chockfast® Red Versaflow Epoxy Grout is a breakthrough three-component grouting compound designed for maximum pumping and flow characteristics to improve the versatility and efficiency of use in the most difficult machinery and equipment. Chockfast' s continual effort toward product optimization has resulted in the introduction of Chockfast Red Versaflow, which is ideal for establishing the long-term support and alignment required by the most demanding operational conditions. Chockfast Red Versaflow Epoxy Grout is available in red or a neutral, beige color.
USE & BENEFITS
Chockfast Red Versaflow Epoxy Grout offers improved working and placement qualities. It is suitable for small and large volume pours - achieving excellent cured properties for dependable, long-term service.
WORKING PROPERTIES
• Optimized for pumping and flow as a standard kit. Aggregate reduction is not required. [Reducing aggregate levels will affect product behavior and properties.]
• Fluid consistency allows large quantities of grout to be pumped using peristaltic and worm drive (progressive cavity) type pumps. Eliminates manual transport of product.
• Capable of low clearance, large area pours. Flows and fills quickly, decreasing installation time.
• When installed using a pump and hose, Chockfast Red Versaflow allows installers to easily overcome the challenges presented by areas of limited or difficult access, such as those found on large skid packages, elevated structures, or in congested areas.
• Can also be poured using traditional placement methods.
WORKING PROPERTIES
• Pumping grout increases placement rates and productivity while reducing installation costs.
• High effective bearing area (>95%), extremely low shrinkage rates.
• Fast cure schedule allows quicker return to service.
• Greatly reduces the amount of "over the flange" waste.
• Maintains physical properties even at shallow depths.
DESIGN CONSIDERATIONS
A key feature of Chockfast Red Versaflow Epoxy Grout is its fluid consistency, allowing effective pumping using peristaltic and worm-drive (progressive cavity) pumps. Impressive discharge rates can be achieved, which are especially beneficial when grouting large volume applications such as required for high-speed compressor packages or when installing multiple pieces of equipment in a single operation. Delivery via hose provides versatility and access to difficult to reach locations.
The fluid nature of Chockfast Red Versaflow Epoxy Grout makes pumping not only possible, but a practical new option to consider when planning your next installation. If pumping is not preferred, Chockfast Red Versaflow Epoxy Grout can also be poured using traditional placement methods.
APPLICATION INSTRUCTIONS
Precondition the Chockfast Red Versaflow resin, hardener, and aggregate. Material should be at a preferred temperature of 65°F - 80°F (18°C - 27°C) at least 24 hours before use to ensure ease of mixing and installation. Transfer hardener to resin container. Thoroughly mix the two liquid components using a Jiffy Mixing Blade for 3 minutes or until there is a uniform consistency in the material, whichever is longer. Add the premixed liquids to mortar mixer and one bag of aggregate. Progressively add the remaining bags of aggregate assuring a homogeneous mix. Mixing is complete when aggregate is fully wetted-out. Over mixing will encourage the entrapment of air.