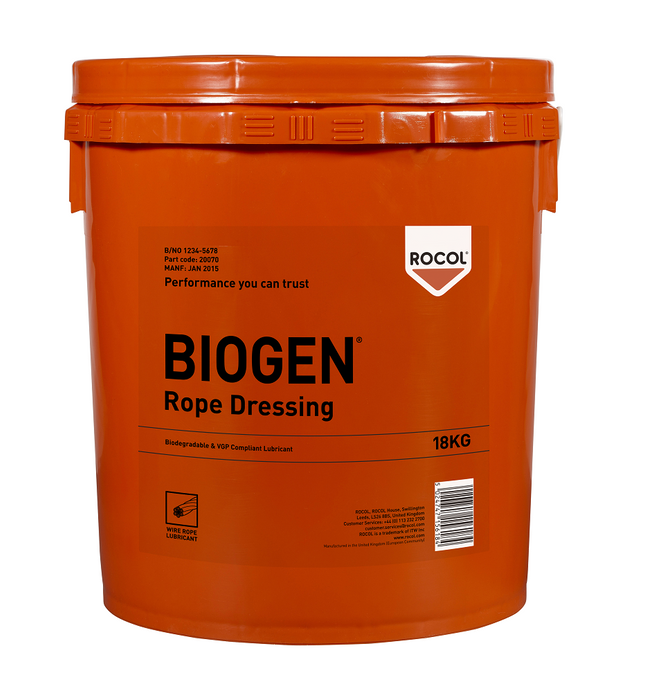 Biogen Rope Dressing - 20070
Original price
$799.00
-
Original price
$799.00
BIOGEN Rope Dressing
Biodegradable & VGP Compliant Wire Rope Lubricant
Offers an excellent wide temperature range of -50°C to +180°C
Biodegradability, minimal eco-toxicity and low bioaccumulation potential.
Offers excellent corrosion protection
Resistant to salt water
Low fling off
Highly resistant to water wash off
Thin, non-tacky film preventing the build up of dust and dirt
Highly penetrative ensuring penetration and protection of the core of the rope.
Prevents wear on rope strands
Product information
BIOGEN® Rope Dressing is a soft, black, high performance wire rope lubricant.
BIOGEN® Rope Dressing is Biodegradable and VGP Compliant.
Features Pseudo Plastic Rheology; It is a black gel, however, it is designed to transform into a fluid consistency under shear to aid penetration into the core of the rope. It will then return to a grease consistency when shear is removed ensuring that the lubricant resists dripping, fling and water wash off.
Demonstrates good corrosion protection, protecting ropes from their primary failure mode.
Outperform mineral oil lubricants with no compromise on the environment, operator safety or cable protection.
*
Biodegradable & VGP Compliant Wire Rope Lubricant
18kg pail
PN 20070