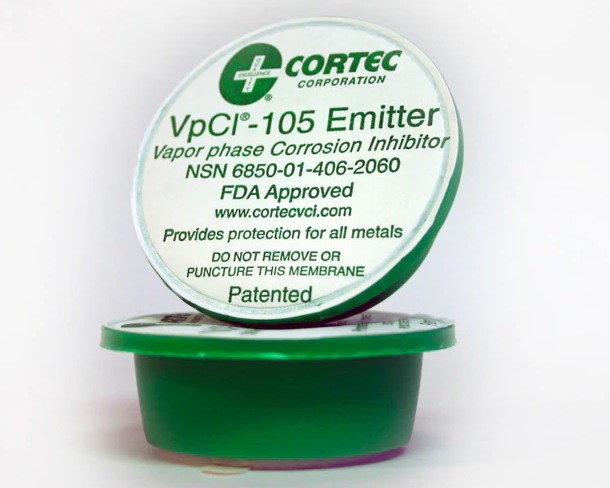 Cortec VpCI - 105 Emitter
Original price
$0.00
-
Original price
$135.00
Cortec VpCI-105 Protective Emitters
5cu ft protection per Emitter
Cortec VpCI-105 emitters are unique devices designed to provide corrosion protection for metal components and parts enclosed in non-ventilated control boxes, cabinets or tool boxes up to 5 cubic feet (141.6 liters) in volume.
The VpCI (Vapor phase Corrosion Inhibitor) emits vapors that absorb as molecular layers on metal surfaces to protect critical, complex and expensive electronic equipment and other metal components during operation, shipping or storage. VpCI-105 is a small, patented plastic emitter with a breathable Tyvek membrane through which the corrosion inhibitor is released. It provides long-term protection against corrosion even in the presence of adverse conditions including salt, moisture, airborne contaminants, H2S, SO2, NH3 and others. Plastic emitter cup with breathable membrane 2.25" D x 0.75" H (5.7 cm D x 2 cm H).
Adhesive sticker on back of emitter for install on most surfaces.
Protection: 5cu ft (141.6Liters) per emitter
Applications: Motor control cabinets, marine navigation and communication equipment, Aerospace electrical controls, Electric motors, Switching equipment, Fuse boxes and power boxes, medical equipment, electrical wireways, terminal boxes, scientific and measuring instruments, telecommunications equipment, control panels for manufacturing and processing equipment, breweries, oil & gas equipment.
Sold Individually, pack of 2 or by the case of 20.
VpCI - 101 Device for 1 cu ft protection