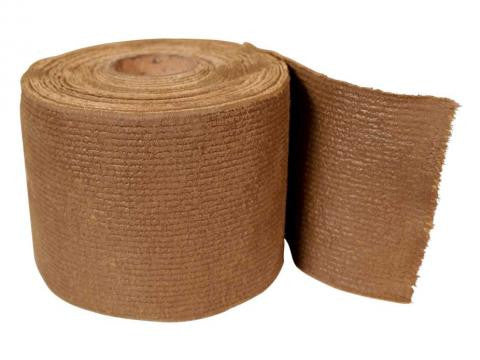 Densyl Tape - All purpose petrolatum tape
Sale
Sale
Original price
$28.95
-
Original price
$719.00
Click 'SIZE' to select 2",4",6", 8" or 12"rolls single or by the case

Apply on hydraulic fittings, wet or dry pipes, flanges, valves, bolts and related surfaces. Densyl Tape is a non-woven synthetic fabric tape fully impregnated with a neutral petrolatum compound. It is applied by hand around metal surfaces and conforms to irregular shapes and profiles for complete covering and protection. Corrosion protection of Denso's Densyl Tape is proven and used throughout the Oil and Gas Industry, residential equipment, marine fishing vessels and municipal equipment for corrosion prevention.
-4

°

F to 158

°

F (70°C) service temperature rating
Highly impermeable to water
Non-hardening and non-cracking waterproof covering
Excellent resistance to Acids, Alkalis and Salts
Uses and Applications
Atmospheric Uses: Structural steel, flanges & valves, sweating lines, tank bases, pipe crossing, cooling tower piping and under thermal insulation
Buried Uses: Flanges & valves, pipe, weld joints, pipe couplings, pipe penetrations, cadwelds, bolted fittings, ductile/castiron pipe.
Marine Uses: Steel piles, timber piles, flanges & valves, submarine pipeline repairs, pipe hangers, concrete piles, risers, under deck piping, offshore platforms, H-piles, tie rods & end connections, hydraulic fittings, deck hardware.
Commercial and Residential Uses: plumbing connections, cooling tower piping, cable splices, roof repairs, waterproofing & sealing, threaded connections, battery terminals, trays & tie downs, trailer axles & U-bolts,  snow plows and sanders, tractors, wood splitters, dock hardware and seasonal equipment storage for corrosion prevention. Excellent for protecting equipment through harsh winter weather to humid or wet environments.
• Applied to marginally prepared surfaces (SSPC SP 2-3)
• Conforms to irregular shapes and profiles
• Can be applied to cold, wet surfaces
• Not effected by water, acid, salts or soil organics
• Encapsulation of lead paint
• Contains no solvents
• Easy application from arctic to tropical temperatures
• Ready for immediate service after application
• Meets AWWA C217 Standard
• Over a sixty-five year history of proven applications
Application - No training or experience necessary.
This product does not contain any substance classified as hazardous to health.
This product has no significant environmental hazards when in use
Data Sheet - Densyl Tape (Click to open SDS in new window)