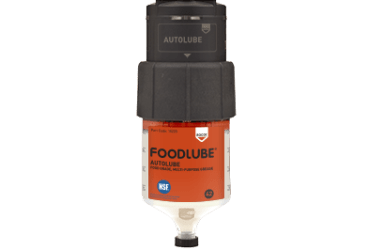 FOODLUBE® Autolube
Original price
$100.00
-
Original price
$229.00
Food Grade, Multipurpose, EP Grease with PTFE in an Automatic Lubricator
Contains

 

NSF

 

H1

 

FOODLUBE

 

Premier 1
Accurate electromechanical grease dispenser for trouble free lubrication
Grease will dispense of a period set between 1-12 months
Ideal for hard to access areas
Reliable, lubricant discharge, independent of temperature and counter pressure

NSF

 

H1 registered &

 

ISO

 

21469 certified for full audit compliance
Product information
The FOODLUBE Autolube is an electromechanical automatic lubrication system for a wide range of applications including bearings, slides and bushes within the food, pharmaceutical and other clean industries / environments.
FOODLUBE Premier 1 is an excellent high performance extreme pressure grease with PTFE. It is a soft, white, non-toxic grease ideal for fast moving bearings i.e. electric motors and fan bearings. FOODLUBE Premier 1 also has high load and wear properties, is very resistant to water washout and offers excellent corrosion protection.
The Autolube contains 120ml of grease, this can be set to dispense over a time period of 1-12 months. A pressure build up to 6 bar allows remote mounting up to 3 metres. LED lighting flashes green when in operation and red when the unit is empty.
The temperature range of the grease is -30°C to +180°C, the temperature range of the autolube unit is -10°C to +60°C.
120ml Refill Cartridge - PN 15220
120ml Full Unit - PN 15224