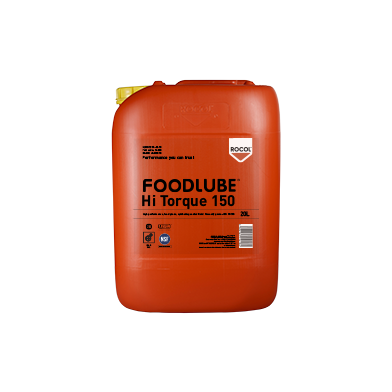 FOODLUBE® Hi-Torque
Original price
$239.00
-
Original price
$4,739.00
High Performance, Food Grade, Synthetic Gearbox Fluids
Increases oil change interval to up to 4 years
Reduces wear to significantly extend gear box life
Unique

 

SUPS

* technology protects gear teeth on start-up
Available in a range of viscosities to cover all applications

NSF

 

H1 registered &

 

ISO

 

21469 certified for full audit compliance

HALAL

 

Certified
Kosher Certified
Product information
FOODLUBE Hi-Torque is a range of food grade, fully synthetic gear oils that minimise wear, thereby reducing risk of breakdown and significantly extending gear box life. FOODLUBE Hi-Torque is proven to extend oil change intervals to up to 4 years.
*FOODLUBE Hi-Torque incorporates the ROCOL Start Up Protection System, a unique additive package that ensures gear teeth are lubricated on start-up, even after a prolonged shut-down.
Unlike traditional gear oils where gear teeth are unprotected until enough oil has worked its way around the gear teeth, SUPS technology leaves gear teeth coated with oil after shut-down. On start-up, oil instantaneously climbs the gears to provide maximum protection. Watch our video to see SUPS in action!
The SUPS technology also protects against micro pitting which is one of the most common forms of gear teeth failure.
FOODLUBE Hi-Torque is fully compliant with food industry standards, with NSF H1 registration, ISO 21469 certification and Halal approval.
Available in 150, 220, 320 and 460 cSt viscosities to protect all gear box applications within the food industry.