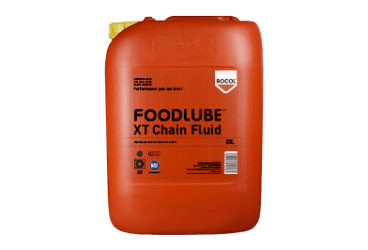 Foodlube XT Chain Fluid
Original price
$1,328.00
-
Original price
$12,463.00
Food Grade, High Temperature Chain and Conveyor Lubricant
Wide operating temperature range: 0°C to +280°C
Excellent anti-wear properties extend chain life
Penetrates deep into links and pins for maximum wear protection
Anti-oxidant package reduces deposit and varnish formation
Low evaporation increases re-lubrication intervals
Low fuming supports clean working environment

NSF

 

H1 registered &

 

ISO

 

21469 certified for full audit compliance
Product information
FOODLUBE XT Chain Fluid is formulated from a combination of synthetic esters and a special anti-oxidant package, which ensure outstanding performance at temperatures up to +280°C.
This advanced formulation allows FOODLUBE XT Chain Fluid to overcome typical problems experienced by chains at high temperatures such as:
Contamination from lubricant dripping or fling-off
Carbonised deposits caused by lubrication degradation
High oil consumption caused by evaporation loss and fling-off
Chain stretch caused by wear from inadequate lubrication
Not only does FOODLUBE XT Chain Fluid offer outstanding operational performance, it is manufactured from FDA listed ingredients, NSF H1 registered and ISO 21469 certified, thereby providing full audit compliance in the food and beverage industry.
FOODLUBE XT Chain Fluid is designed for use with automatic lubricators, including electrostatic systems, making it an ideal product for the lubrication of bakery oven chains and pin chain lubrication in the canning industry.
FOODLUBE XT Chain Fluid does not contain paint wetting impairment substances (PWIS).
20l - 15800
200l - 15801