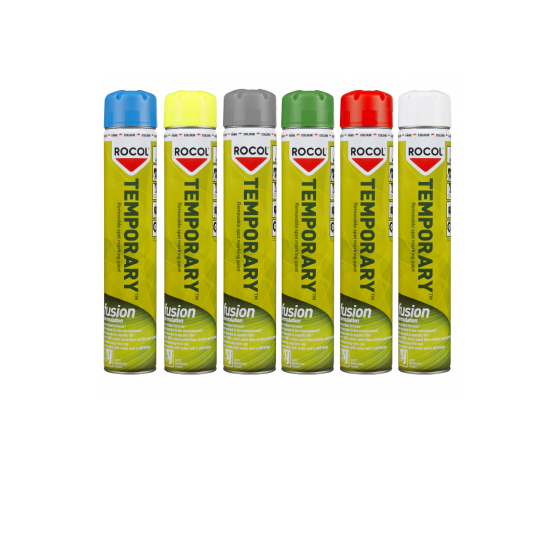 Temporary Fusion Spray Paint
Original price
$28.95
-
Original price
$28.95
Temporary, Removable Spot and Survey Marking Paint
FEATURES AND BENEFITS
OVER 100% MORE PAINT THAN SIMILAR SPOT MARKERS
Patented clog-free spray through cap
Non-irritant formula under the CLP regulation
Not harmful to the environment
Not harmful to aquatic life
Removable with water and a stiff brush
One pass system gives excellent, bright durable markings
Extra tough 18Bar rated aerosol cans minimizes risk of puncture or failure in high temperatures
Fast drying-touch dry in 5 minutes
Colour coded range for identifying electric, gas, water, cables etc.
Suitable for marking surfaces such as asphalt or tarmac, concrete, metals, timber, soil, grass sand and gravel, artificial and natural stone, brickwork and composites
Ideal for pavement spot marking in areas where permanent paint lines do not want to be left after work has been completed
TEMPORARY fusion removable spot and survey marking paints from ROCOL were developed over 12 months. After comprehensive research, extended field trials, working with our major corporate customers and the people that use spot marking paints every day we formulated this unique product for the market.
TEMPORARY fusion supports corporate purchasers' social and environmental responsibilities, minimising Health and Safety risks for the user without compromising the trusted superior performance you would expect from a ROCOL product. Many of the features are unique when compared with other removable spot marking paints on the market.
Developed to be instantly removed once dry with water and a brush.
Will also fade naturally over a 2 – 3 month period.
Evaluated under EC Directive 1999/45/EC
Duration may vary due to surface conditions, weather, paint thickness and traffic levels. We recommend you test a small area before use.
Part Code - Size - Color
44030 - 750ml-White, General Marking
44031 - 750ml-Yellow, General Marking
44032 - 750ml-Blue, Water
44033 - 750ml-Red, Electricity
44035 - 750ml-Grey, Telecommunications
Each individual can $28.95