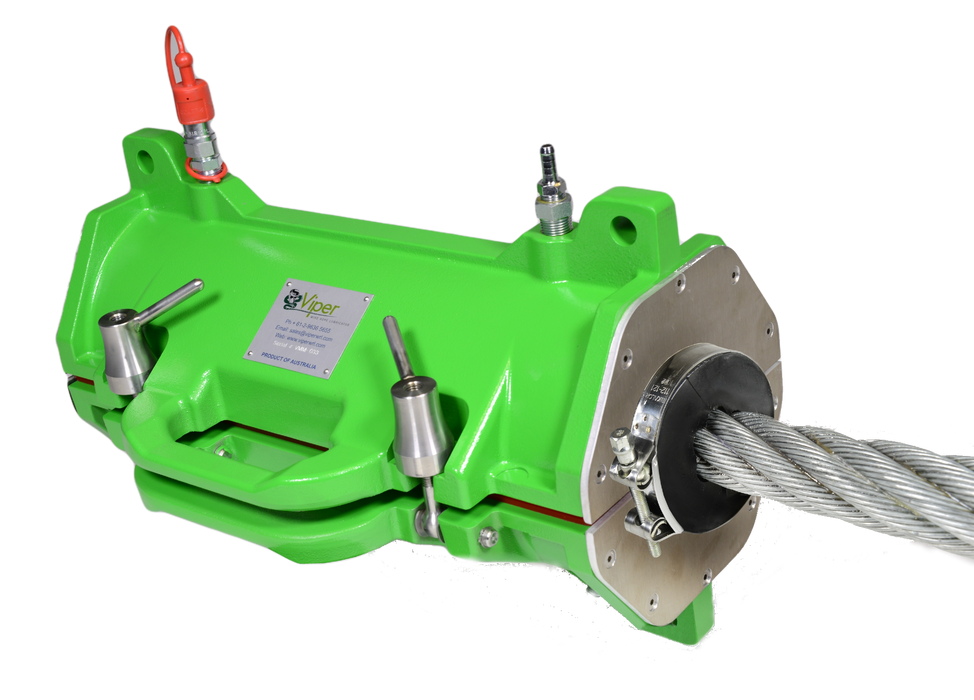 VIPER WRL MAX
Original price
$13,000.00
-
Original price
$13,000.00
SUPERIOR PROTECTION OF WIRE ROPES – 50MM TO 165MM
Fast and effective lubrication of wire ropes with a diameter between 50mm to 165mm. The Viper WRL MKII Maxi lubricates ropes at up to 2000mt/hour.
Recommended for use with ROV Cables, Vessel Crane Ropes, Underwater Offshore Wire Ropes and Drag Lines.
The Viper Wire Rope Lubricator provides grease penetration, moisture displacement and total coverage by forcing lubricant into the core of the rope.
Viper Maxi MKII is suitable for Wire Ropes 50mm to 165mm
VIPER MAXI KIT INCLUSIONS
The viper wire rope lubricator is supplied as a complete package, with all of the components required to get you started. Simply order the kit and then select and order the seals and scrapers to suit the rope size to be lubricated.
WHY CHOOSE THE VIPER MAXI MKII WIRE ROPE LUBRICATOR
Enables ease of mounting unit to wire rope
Ensures consistent lubricant delivery across a wide range of ambient temperatures
Less downtime – Due to the high volume flow rate of the pump, meaning high speed lubrication up to 2000m/hr
Option for 13KG high pressure , high flow pump
High speed lubrication of ropes allows quicker lubrication, hence less downtime
Enables larger diameter and longer ropes to be lubricated
Excess lubrication is captured via a second seal chamber meaning low environmental impact as lubricant is contained.
Seal length enables longer dwell time for better lubricant penetration for larger diameter ropes
Metal Alloy Scraper Plate
Enables safe entry of broken wire ropes into the seal ensuring the rope and seal is not damaged.
Suitable for a wide range of wire ropes –  Diameters 50mm to 165mm
Enables lubrication of a broad range of rope diameters with one Viper Kit
ROC Cables
Vessel Crane Ropes
Steel Wire Ropes for Shaft Mining
Underwater Offshore Wire Ropes
Drag Lines
Highly durable, wear resistant  polyurethane seals
Aluminium Scrapers
Viper Wire Rope Cleaner
ROCOL Lubricant