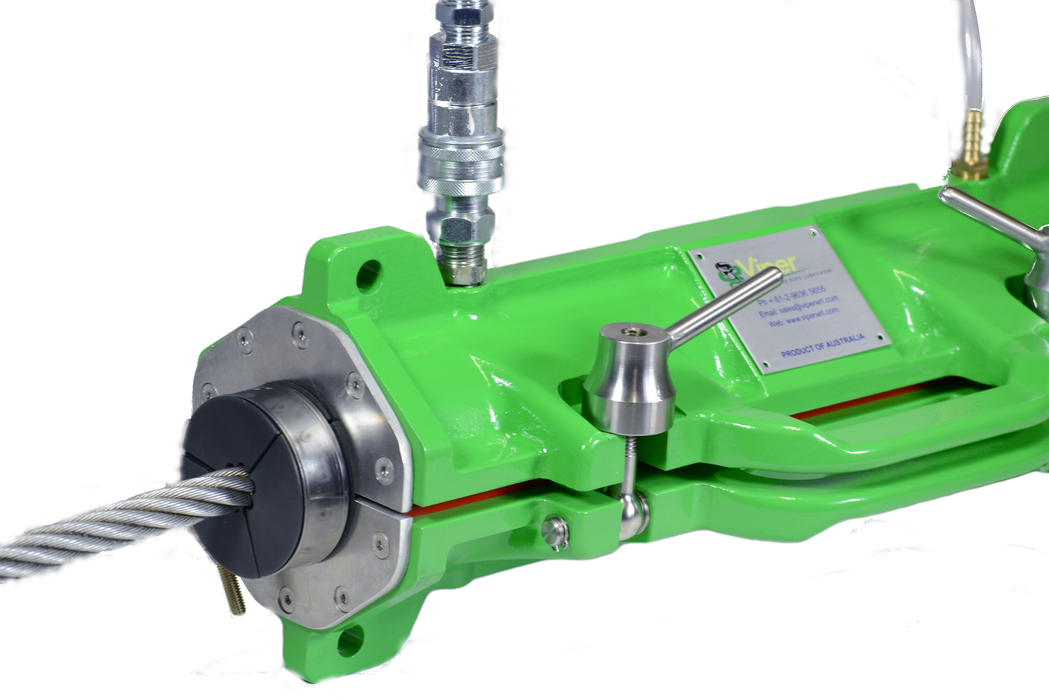 VIPER WRL MID MKII
Original price
$6,200.00
-
Original price
$6,200.00
SUPERIOR PROTECTION OF WIRE ROPES - 6MM TO 67MM
Fast and effective lubrication of wire ropes with a diameter between 6mm and 67mm. The Viper Mid MKII lubricates ropes at up to 2000m/hour.
Recommended for use with Wharf Cranes, Ship Cranes, ROV Cables, Mine Winders, Mobile Cranes, Oil & Gas Platforms, Anchor Ropes, Deck Winches, Overhead Cranes, and Ship Loaders.
The Viper Wire Rope Lubricator provides grease penetration, moisture displacement, and total coverage by forcing lubricant into the core of the rope.
WHY CHOOSE THE VIPER MID MKII WIRE ROPE LUBRICATOR
Ability to mount on rope by a single person.
Ensures consistent lubricant delivery across a wide range of ambient temperatures.
Less downtime due to the high-volume flow rate of the pump, meaning high-speed lubrication up to 2000m/hr.
The Viper seal is made from polyurethane with high abrasion resistance properties, meaning it is resistant to wear. This enables the seal to be used to lubricant thousands of meters of rope without being replaced.
Excess lubrication is captured via a second seal chamber, meaning low environmental impact as the lubricant is contained.
The material and internal design of the seal allow for the seal to mold to the shape of the rope. This creates a pumping action, massaging lubricant into the rope.
The seal molds to the rope, which means there is constant contact with the wire rope, which enables consistent lubrication.
Metal Alloy Scraper Plate
Enables safe entry of broken wire ropes into the seal, ensuring the rope and seal are not damaged.
Suits a Wide Range of Rope Diameters – 6mm to 67mm
Enables lubrication of a broad range of rope diameters with one Viper Kit.
HEALTH SAFETY ENVIRONMENT
The Viper WRL was developed with safety and the environment in mind. When used correctly, the Viper WRL has a number of Health, Safety, and Environmental benefits.
Every gram of grease goes on the rope – no contamination.
Does not leak, meaning no mess.
No wasted lubricant.
Light weight allows for safe application.
There is no personal contact with the lubricant.
The rope is able to be lubricated from a safe distance.
The Viper Wire Rope Lubricator is supplied as a complete package, with all of the components required to get you started. Simply order the kit and then select and order the seals and scrapers to suit the rope size to be lubricated.