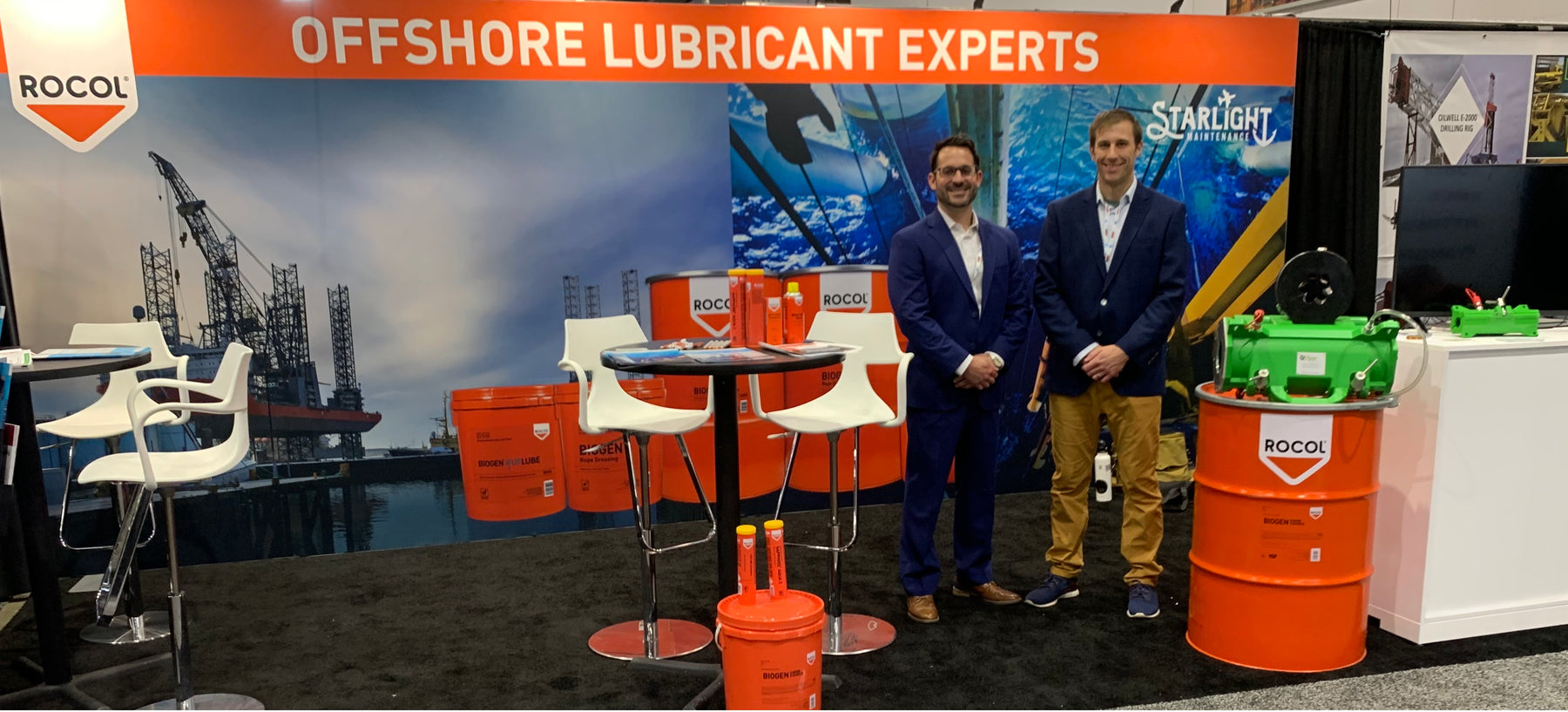 Offshore Tech Conference - Houston 2023
Starlight Maintenance Inc made its debut at the Offshore Tech Conference in Houston showcasing Rocol Lubricants, Viper Wire Rope Pressure Lubricators and Chockfast Orange grouting epoxy. 
Tens of thousands of offshore energy professionals, experts and companies from all over the world flocked to Houston to explore and exhibit cutting-edge technologies and practices that may reshape the global offshore industry at a forum that kicked off on Monday.
Topics ranging from arctic oil and gas opportunities, and deep-sea mining, to reservoir engineering, carbon capture and storage, as well as various marine resources, are discussed during packed panels at this year's Offshore Technology Conference (OTC), one of the largest offshore industry shows in the world.  
Alain Prevost, Business Development Manager at Starlight, stated:
"The purpose of this week is to see market trends and visit a few key customers of ours at their booths. We also have our Manufacturer Representatives... ITW/Viper/Petrowrap, Halliburton and the USCG stopping in to discuss a few current and upcoming projects we are working on with them.

Our aim is to present ROCOL Z50, a fluid for coil tubing internal corrosion inhibitor and neutralizer that is mixed with freshwater, to as many coil tubing techs and manufacturers as possible. This is an environmentally friendly and biodegradable alternative to the industry standard of using diesel. Educating the end-user and initiating a trial for them is our goal."
Aaron Sheer, Technical Advisor at Starlight demonstrated the Viper Wire Rope Pressure Lubricator at their booth.
"Often overlooked is pressure lubricating a new or in-use wire rope. The one-step process cleans and lubricates the wire rope while we visually inspect the strands as it passes through the VIPER lubricator. We often use ROCOL Biogen Wireshield for the lubricant at our sites with the Viper unit as it has the ability to penetrate to the wire rope core at 4,000 PSI. The Viper lubricator unit is fit for 10mm to 165mm wire ropes or ROV umbilicals and across many industries. We tend to see this used most in tow cables, Ro-Ro doors, mining, bridges, offshore cranes and ship-lifts." 
Join Starlight at our next exhibition in New Orleans for the 2023 International Workboat Show at booth 3343 on November 29 to December 1. 
Starlight provides specialty products and services to the Marine & Offshore, Aerospace, Food & Beverage, Heavy Industry and Defense industries. To speak with Starlight by phone dial 888-318-4694, email Info@StarlightMaintenance.com or visit Starlight Maintenance, Inc.