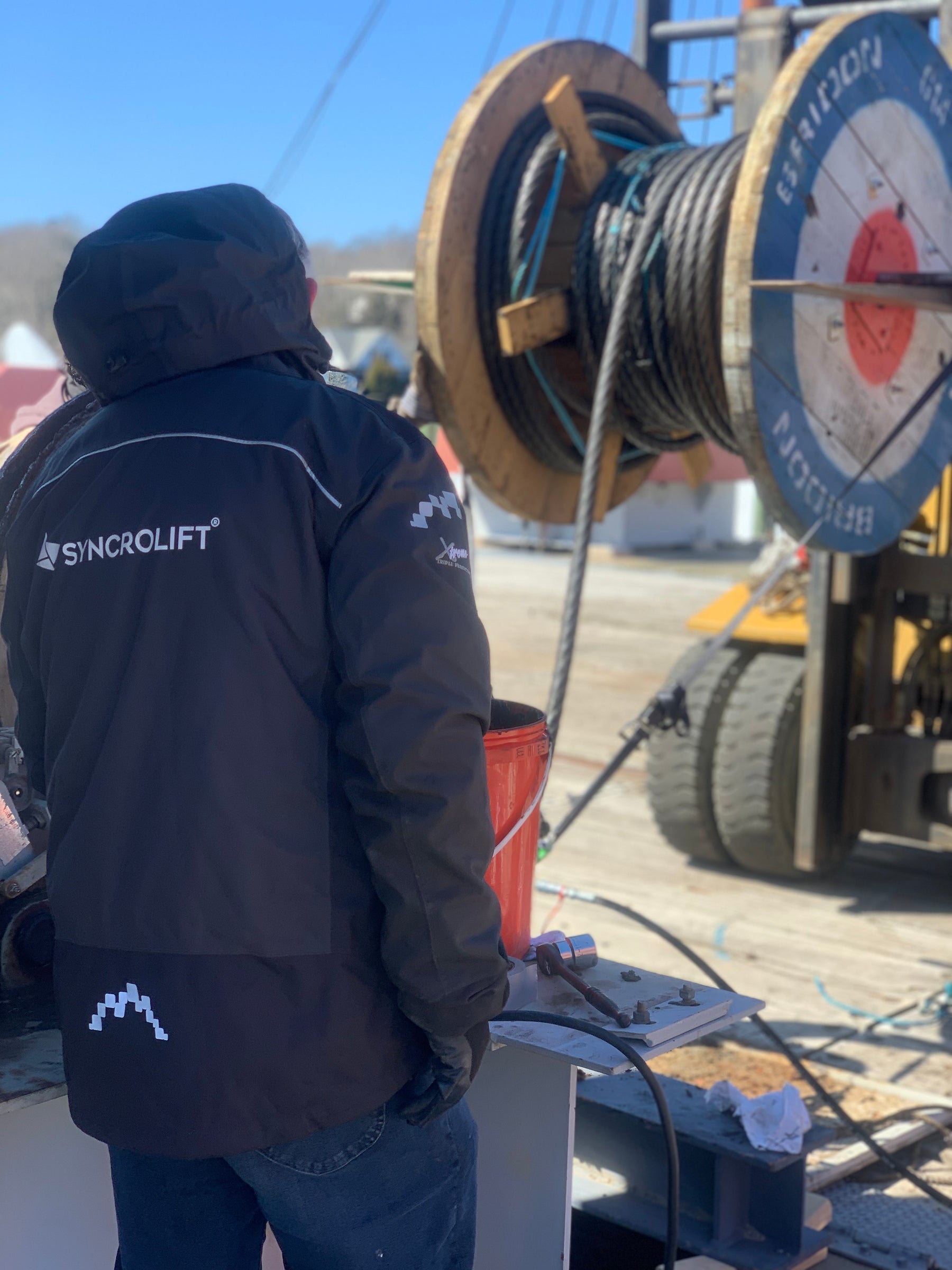 Pressure Lubrication of Syncrolift Wire Ropes - Mystic, CT
Project: Wire Rope Pressure Lubrication on New Wire Ropes for Syncrolift
Location: Mystic, Connecticut USA
Asset: 580-T Syncrolift
Technicians - Alain Prevost and Aaron Sheer
Lubricant: ROCOL Biogen Rope Dressing (Environmentally Friendly Lubricant)
Equipment: Viper Mini Pressure Lubricator
Starlight partnered with Syncrolift for replacing and pressure lubricating 8 new wire ropes. The Mystic Seaport crew and Ship Worx assisted us for the project of removing one wire rope at a time and installed a new 1-3/8" wire rope.
As the new wire rope rolled off the spool, traveled through the sheaves and onto the winch drum, our
VIPER Mini Pressure Lubricator
injected
ROCOL Biogen Rope Dressing
to the core and surrounding strands for corrosion protection and the right amount of lubrication without dripping onto the lift or into the water.
We installed a 1-step wire rope cleaner on the Viper Mini to remove wax, old grease and contaminates from the wire rope before it was fed into the lubricator. The cleaner has deep grooves that are manufactured as an exact fit to a specific wire rope size and type. The grooves fit into the deep valleys of the wire rope and extract contaminates right before injecting new lubricant.
With an 80PSI air source, we pumped the grease into the new wire rope (180ft long) as it spooled onto the winch drum. The air pump has a 50:1 ratio meaning the grease was injected to the core and throughout the strands at 4,500 PSI.
Each wire rope used 10kg of grease which amounts to 5 pails (5-gal size). 
Mystic Seaport is located on the Mystic River, surrounded by Wildlife Management Areas. With the environment, zoning and application in mind, ROCOL Biogen Rope Dressing (Environmentally Friendly Lubricant) was recommended as it is biodegradable, has minimal eco-toxicity and low bioaccumulation potential while offering excellent corrosion protection, resistant to salt water and a high wash off rate which extends the overall life and relubrication intervals. 
For more information on this project,
Syncrolift

®
, Viper equipment, Rocol lubricant or our services, please contact Alain at 207-240-0449.
Viper Mini Pressure Lubricator with cleaner installed injecting Rocol Biogen Rope Dressing on 8ea 1-3/8", 6x37 strand wire rope.